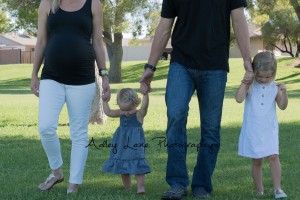 I was so honored to be given the opportunity to work with the B family for a maternity shoot. I have known mom for a few years and just adore her. What a delight to meet and work with the rest of her beautiful family!
We started the day at 8 a.m. at a nearby park with the family. Mom let me know they had just spotted a hummingbird after our arrival so the session was complete.  The hummingbird is this family's angel on Earth.
The sun was still quite warm as that is desert life. The park offered lots of nice shaded trees to help keep everyone cool. After some family and individual park shots we went back to their nearby home to complete our maternity session while the youngest went down for a nap.
The family is keeping the gender of their newest addition a surprise until delivery but their oldest is convinced it is a boy. Actually, from what mom and dad tell me, everyone has been referring to this baby as "he" so she isn't alone. I can't wait for Baby B's arrival!
P.S.     Before our session ended I was invited back for a future play date by the oldest.  What a compliment and boy did that make my day! I think that is confirmation that everyone had a great time today. 🙂